This past week, the Center of Occupational and Environmental Health (COEH) held the 2019 Applied Skills in Ergonomics course at the UC Ergonomics Work Simulation Center. Learners from all over the globe attended a 3-day hands on workshop that is associated with the Online Ergonomics Training Program. This diversity of attendees' backgrounds and practice made for a rich learning experience.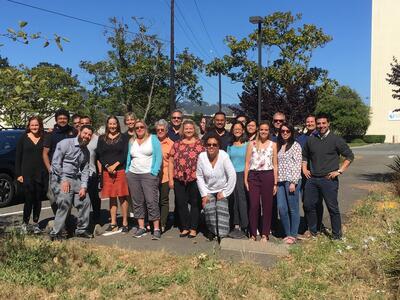 Lectures on exposure measurement, quantitative assessment tools and the design process were given by Dr. Carisa Harris of UCSF/UC Berkeley, Dr. Jim Potvin of McMaster University and Dr. Dan Nathan-Roberts of San Jose State University. Meg Honan and Melissa Afterman, consultants from UCSF, provided the ergonomics practitioner perspective in analyzing and presenting data to influence change within an organization. And updates and hands-on demos of exoskeletons were given by Dr. Logan Van Engelhoven, a research scientist with SuitX.
Measured force and posture and analyzed video for movement frequency and duty cycle

Calculated values to determine if exposures were acceptable using the latest version of the ACGIH TLV for Hand Activity and the Maximum Acceptable Exertion (MAE) and Recommended Cumulative Recovery Allowance (RCRA)

Developed solutions to reduce exposure for a population

Delivered a summary presentation to their peers
We had a fun time and learned a lot!