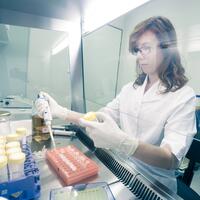 Repetitive laboratory tasks cause numerous shoulder, forearm, wrist, and hand injuries. Research has shown that pipetting just 1.3 hours per day elevates the risk of these upper limb symptoms.
In a free webinar from November 22, 2019, brought to you by The Scientistand Thermo Fisher Scientific, Melissa Afterman provides tips and tricks for optimizing performance and avoiding injuries in the lab.
Melissa covers Ergonomics Risks and Preferred Methods for Lab Work Related to Pipetting:
Sitting and standing at the lab bench

Recommended workstation set up

Working in bio-safety cabinets

Ergonomic tools to optimize performance
Click HERE to watch the webinar on demand.