As the COVID-19 pandemic has sent millions of workers home under shelter in place ordinances, we find ourselves working without the same ergonomic furniture and computer equipment we may have had at the office. Plus millions of students are home-bound facing an increase in screen time and a decrease in physical activity. These changes may pose a risk to our well being, but as ergonomists, we can recommend simple adjustments and changes for improvement.
We added an entire new webpage devoted to Ergo Tips for Working and Schooling at Home,including videos, tips and downloadable PDFs. We have also had the opportunity to share this information with the public.
Dr. Carisa Harris was interviewed for this article on MarthaStewart.com.
And Melissa Afterman presented "Ergonomics for Students: Top 10 Recommendations" at the HFES Ergonomics Summit: Guidelines for Safe and Healthy Work or School from Home. A recording of this webinar is available on the HFES website.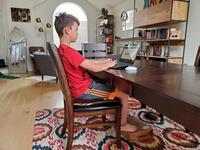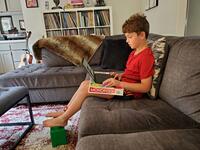 Melissa will also be presenting a FREE webinar "Ergonomic Tips for Working and Schooling at Home During COVID-19" on May 6, 2020 from 12-1pm PST.
At the completion of this webinar, you will be able to:
Use household items to create work spaces that support the body and minimize fatigue

Identify ways to manage the increased cognitive load of working and schooling at home

Plan strategies for movement and wellness to balance an increase in sedentary screen time