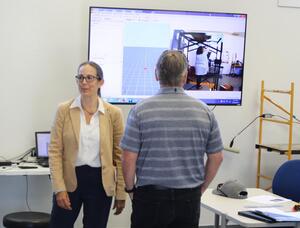 The UC Ergonomics Graduate Training Program provides high quality training for graduate students interested in a M.S. and Ph.D. degree in ergonomics. Our academic training spans multiple departments at UC Berkeley and offers excellent opportunities for a broader degree in Environmental Health Sciences, or Engineering, with a concentration in Ergonomics. Our students leave prepared for the ergonomics associate or professional certification examination from the Board of Certified Professional Ergonomists.
What sets the UC Ergonomics Training Program apart
Real-World Opportunities - The field report required of students in the Ergonomics course (PH269C) presents prioritized ergonomic risks and engineering solutions that are invited by the participating companies that students evaluate. Few other programs provide real-world opportunities for students to have a direct impact on workplace safety.
Health Care System Experience - Students have an opportunity to experience the healthcare system as workers do in the Clinical Ergonomics class (PH298). Through this exposure students begin to understand the different perspectives of health care providers and the importance of coordinating the health care message to patients.
Laboratory with Research Instrumentation- The Ergonomics Seminar (PH295) was recently modified to add two laboratory modules. These modules expose students to the more complex laboratory exposure assessment tools used in ergonomics.
Interdisciplinary Interactions - Through research projects and coursework, ergonomics students interact with students from industrial hygiene, occupational medicine, occupational health nursing, and engineering in Ergonomics (PH276A) to carry out a detailed job analysis and intervention design in a real-world workplace. Ergonomics students take Psychosocial Factors in Injury (Nursing 248) with Occupational Health Nursing students and they interact with occupational medicine fellows, physical therapists, and attending physicians in Clinical Ergonomics (PH 298). Research advisors come from affiliated faculty like Dr. Lehman (UCB, Bioengineering), Dr. Diao (UCSF, Hand Surgery), Dr. Hargens (Bioengineering, NASA-AMES), Dr. Jeff Lotz (UCSF, Orthopaedics), Dr. Faucett (UCSF, Nursing), and Dr. Miles (Agricultural Engineering, UCD).