Program Overview
MASTERS LEVEL - HUMAN FACTORS / ERGONOMICS
The goals of the M.S. Training Program in Human Factors / Ergonomics (HFE) are to provide an adequate foundation and practical experience in human biology, performance, and biomechanics so that a successful graduate can become a competent resource for ergonomics issues within a company or agency, or develop an ergonomics consultation practice, or progress on to a Ph.D. training program.
Application to the HFE Program is through either:
Requirements
Applicants must meet the entrance requirements of the Department to which they are applying

All students are enrolled full-time and the M.S. degree takes 2 years to complete

In consultation with the Program Director, Dr. Harris, Students prepare a curriculum that meets their needs based on their academic background and the requirements of their Department
In addition to meeting the graduation requirements for the Department from which they are graduating, students must also complete additional courses required of the Ergonomics Training Program (see table below)
All Master's students must also complete an original research project or a capstone project 
Core Courses
There are 12 Human Factors / Ergonomics (HFE) Core Courses (34 semester credits or 102 Semester Hours) that need to be taken to receive the HFE Emphasis (Table 1). Although most of the classes are offered in person on the UC Berkeley Campus, some are provided online, allowing some flexibility for other course requirements that are required by degree.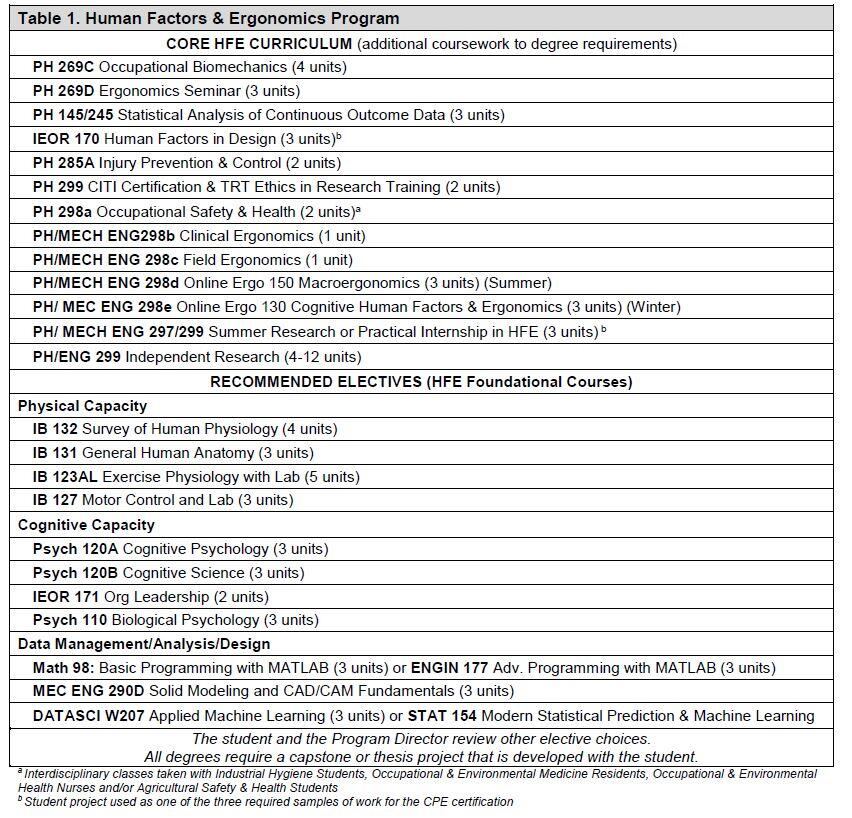 Sample Curricular Plan
Typical 2-year Master's degree curricular plans are shown in Table 2. The HFE core coursework is the same for all students regardless of whether they are receiving an MPH or MS in engineering; however, other course requirements for their respective degrees are shown for the MPH (yellow) and the Master of Science in Engineering pathways (blue). Since the engineering courses are cross-listed across departments, the curricular plan below provides a reasonable example of the courses that would be taken for students working towards an MPH or MS in Engineering.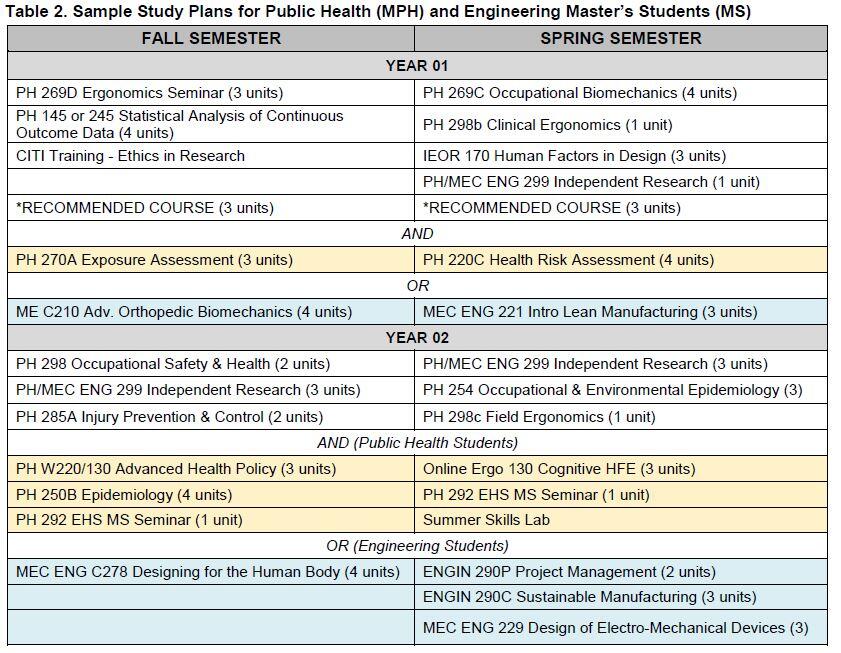 DOCTORAL LEVEL - HUMAN FACTORS / ERGONOMICS
​
The program is administered similarly to the masters program. The Ergonomics PhD program is designed for students interested in a career in academia, government agencies or industry performing original research and possibly teaching. The program is small, with one to five doctoral students at any time. Students in the doctoral training program normally complete course work in two years and submit a dissertation on a research project in a total of five years. 
Application to the Doctoral Program is through one of the following departments:
Environmental Health Sciences at the School of Public Health (UCB)

Bioengineering Graduate Program (Joint program UCSF/UCB)

Department of Mechanical Engineering (UCB)
If entering with a baccalaureate degree:
Your academic  program includes 1 major field of study and 2 minor fields
Approximately 16 semester units of predominantly graduate level course work in the major field 

Minimum 8 units of upper division and graduate courses in each of the minors (exclusive of seminars and research)

There are no formal unit requirements, however
If entering with a master's degree
Your academic program includes 1 major and 1 minor field of study

At least 14 semester units of graduate level course work in the major area

9 units of upper division or graduate coursework in the minor area (exclusive of seminars and research) 
The PhD student curriculum is initially similar to that of the Master's students (see above); however, students have additional requirements each semester that include doctoral seminars and additional research units (PH 299).Table 3 lists the additional courses for PhD students to take given their degree in Public Health (yellow) or Engineering (blue).The student background and degree programs differ so the exact curricula is developed with the consent of the within degree program advisor and HFE Research Advisor (Dr. Harris).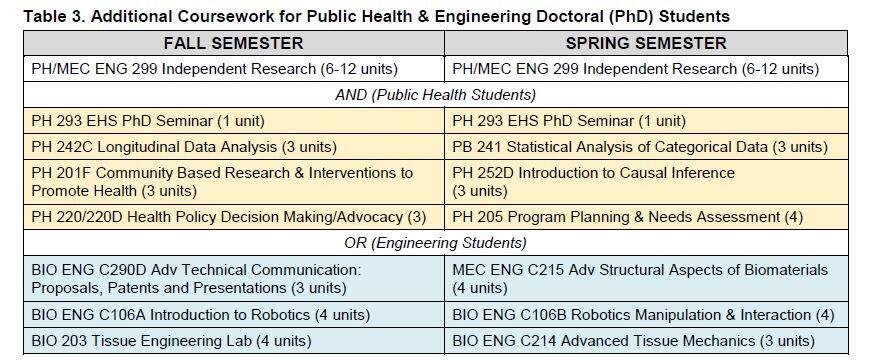 The Dissertation
The details of each PhD student's dissertation focus is determined by the doctoral student  in consultation with his/her Graduate Advisor. ​Students are encouraged to select topics which are a component of, or parallel to, currently funded studies. Research areas have focused on understanding pathophysiologic mechanisms of musculoskeletal disorders, developing new methods of measuring musculoskeletal tissue loads and effects associated with external loading (e.g., muscle fatigue, tissue oxygenation, tissue pressure, electromyography), epidemiologic methods and upper extremity disorders and ergonomics intervention research. Students can also develop their own research projects.